If your browser warns you that this website is not secure and you are worried about this, then please click into the address bar at the top of the page and change "http://" to "https://", leaving the rest of the text unchanged. This will take you to a secure version of the site.
Please note, however, that merely looking at the pages on this site will not make you in any way vulnerable if you do not do this.
URGENT ANNOUNCEMENTS
(reserved for committee-approved announcements: routine announcements can be found further down the page.)
This is a reminder to members that henceforth our monthly meetings in the Pemberton Centre will be in the sports hall not the main hall: to the left on entry into the building. Please where possible no stiletto heels as they will cause damage to the floor.
----------------------------------------------------------------

A number of members have requested and been issued with a user name and password for this website. The committee has now decided that there will no longer be a "members only" page on the website, and logins will henceforth only be issued to group leaders and other administrators.
Members wishing to contact group leaders more urgently than by e-mail can now find their telephone numbers via Beacon: see the foot of this page for details.
----------------------------------------------------------------
We still need more "meeters and greeters" for the monthly meetings. If you would like to help out in this role please get in touch with Steve Evans (Front of House) via the Contact page.
----------------------------------------------------------------

Our June meeting this year will be a celebration of the fact that Higham and Rushden U3A is 10 years old. Please click here to open a document with details of the event, which will be a ticket-only affair.
What is the University of the Third Age, or U3A as it is often known?

The University of the Third Age (U3A) movement is a unique and exciting organisation which provides, through its U3As, life-enhancing and life-changing opportunities. Retired and semi-retired people come together and learn together, not for qualifications but for its own reward: the sheer joy of discovery! Members share their skills and life experiences: the learners teach and the teachers learn, and there is no distinction between them.
Further brief details about the movement can be found here, or for the full story of the U3A movement's national organisation, the Third Age Trust, click here to open the national U3A homepage in another tab. For further details of the Higham and Rushden U3A, please carry on browsing this website.
If you would like to join us you can find a membership application form here or among the many documents available on the Administration page (although you will need to scroll down the page).
The slideshow below, which you can pause by holding your cursor over one of the dots in the progress bar below it, is of local images.
Many of these pictures were taken from the internet, so we need input from members! Please send your local pictures to us via the blog page.
Higham and Rushden U3A news:
DAYS OUT CAR SHARE news:

Sunday 11/8/19 Springfields Shopping Centre, Spalding

Good place for lunch or take a picnic to enjoy in the garden. Afternoon at Burtey Fen Collection for Compton and Wurlitzer organ concert with Nigel Ogden, recently retired presenter of Radio 2's The Organist Entertains. £10 each for the concert. Car share trip offers of transport please. Contact Us for concert availability details 01933 387892

____________
Our Chenies day out in April was blessed with lovely weather. We will certainly visit later in the summer by car. We have 2 spaces to offer, non drivers particularly welcome. Date to be arranged.
____________

Days Out Group Coach Trip 24th Sept to Goadby Marwood Hall
As this property is privately owned the house is only available for private group visits.
We would like to know numbers for the following visit. Entrance with guided tour and afternoon tea for £22 + Coach fare to be fixed once we know numbers. Ring 01933 387892 or email spidar.girl(at)btinternet.com
Goadby Marwood Hall is a 17th-century Grade II* house next to a beautiful 13th-century church in a tiny village just north of Melton Mowbray. In 1750 a new Palladian-style south wing was built. The 180-acre estate was a subsidiary holding of the Duke of Rutland and often the residence of members of his family.
In 2000 it was inherited by Vicky Westropp. She and her husband have worked tirelessly, restoring the neglected house and redesigning the garden, based on 18th-century plans. Planted for year-round interest, it boasts a chain of five lakes over ten acres and several interconnected walled gardens — a feast for the eye. Join the Westropps for a tour of their beautiful house and gardens.
____________

We will be looking into future visits over the next weeks. We are particularly looking for a Christmas trip similar to our Waddesdon visit last year. Any ideas gratefully received.

===========================================

NON-FICTION BOOK GROUP has 1 space. We meet on a Monday afternoon, usually once a month, date decided the previous month depending on the length of our current book and members commitments . Our May choice is Three against the Wilderness by Eric Collier an author with Northampton connections. Ring Linda or Chris 01933 387892 or email for more information.
===========================================

Sunday Lunch June 2nd.
We are back at the Bowls Club as it is such excellent value £12 for 2 courses with tea and coffee included. Booking essential. New U3A members and singles welcome.
===========================================

At least 2 members collect used postage stamps for charity, so from now on there will be a box at each monthly meeting into which members can deposit their stamps, secure in the knowledge that they will go to a good cause. Initially (if not permanently) the box will be on the membership desk near the entrance.
May message from the chair

Hi all U3A members.
A few days ago we collected a dear friend who had just flown in from Australia. Actually she had flown a few weeks before with a party of Australian teenagers who have been touring Italy including Rome,Berlin, Nuremberg Munich and Moscow. Vicky our friend is an award winning teacher of history.
I left her an email to pick up when she reached London apologising for the awful British weather. She replied it was character building. She on the other hand has explained that Sydney had experienced summer temperatures of over 40 degrees. Finding herself teaching a group offloppy, overheated children in a non-air-conditioned classroom roused them by saying;"Come on you are a bunch of little Australians not Eskimos"
Having to pack in some historical sights we took Vicki to Hampton Court as she is interested in the Tudor era. We have just returned from Bath:the first Governor of the first Penal Colony in Australia lived and died here following his return from Australia. All these things I didn't know.
We were in Portsmouth yesterday visiting the Marie Rose exhibition which is so well exhibited.If you haven't been I urge you to visit. A word of caution take a credit card it's £18.00 to get in and another £18.00 to see HMS victory.
Vicki is a sponge, absorbing all the historical data thrown at her, so now back in Northamptonshire we've plan to take her to the rich historical sites we have in and around our area. I hope she will come to the Pemberton on Wednesday.
I wish you all health and happiness.
Angela

NB The Newsletter is available online from the Sunday before each Pemberton Meeting.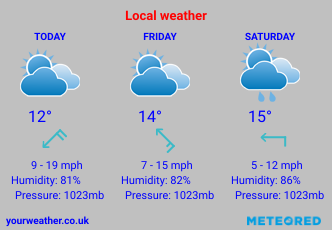 National U3A news
Interested in a regional U3A Email newsletter as well as our own local one?

Visit u3a.org.uk/email and fill out your details for news, events and regional updates direct to your inbox: you will need to decide whether East Midlands or East of England is more appropriate.
Higham and Rushden U3A monthly meetings
Make sure you don't miss our interesting talks on the third Wednesday of the month by making a note in your diary.
Meetings now start at 1.45 pm prompt at the Pemberton Centre, HE Bates Way, Rushden, NN10 9YP. Visitors are welcome at £3 per meeting for a maximum of 2 meetings. Note also that from January 2019 we will be in the sports hall (turn left at Reception) rather than our traditional venue of the main hall.
At some point in 2019 we will have to relocate our meetings to the Rushden Historical Society "shed", although the date of our last meeting at the Pemberton Centre has not yet been agreed. In the meantime smaller events such as Group Leader meetings and Committee meetings will with immediate effect use the shed. Directions to the shed can be found here.

Date

Venue

Topic

Speaker

__________________
_________________
________________________________________________________
_____________________
June 19th
Goods Shed
Higham and Rushden U3A 10th Anniversary



Celebration tea party with entertainment. Please click here for
details of this all-ticket event.

July 17th
Pemberton Centre
'Flush with Success'

Kevin Varty
The History of the Smallest Room in the House - the Toilet. With
Historian and Lecturer, Kevin Varty.

August 21st
The History of the Romany Gypsies
Gloria & Peter Wright
Talk & Photographs
The history of the sufferings & success of the Romani people(s).
A personal trip down memory lane which inspired the speakers to
research the origin of the Romani People from 400 A.D to the
present day, following their migration from India, suffering
persecution & slavery through Europe.
September 18th
A soldier's journey
Luke Wigman
An inspirational speaker who has raised over £1M for charity
(Stanford Hall and RAF Benevolent Fund). Was badly injured in
Afghanistan and has won medals at the Invictus Games. He
speaks briefly about the Defence and National Rehabilitation
Centre followed by his life in the Military.
October 16th
"Dancing with Diana" and our AGM
Colin Hill
A talk with photographs by the man who was Princess Diana's
bodyguard for 8 years. Also our AGM.
November 20th
Forging ahead
Steve Dimmer

'Operation Bernhard' was the code name of a secret Nazi plan
devised during the Second World War by the RSHA and the SS
to destabilise the British economy by flooding the country with
forged Bank of England £5, £10, £20 and £50 notes. It was the
largest counterfeiting operation in history. A talk about the setting
up of the operation with an opportunity to handle an actual
forged £5 note.

December 11th
The Corby Male Voice Choir
Note: Second
Wednesday

Sixteen to twenty singers, entertaining us with Christmas and other
popular songs and inspiring us to get into the Festive Spirit.

2020
January 22nd
The Air Ambulance
Mr Peter Willie
Talk & photo presentation of the work of The Air Ambulance including
The Children's Air Ambulance, & Night Car. (Followed by a fundraising
collection, by Air Ambulance. Please give generously on exit).

February 19th
Don't Dilly Dally
Tricia Thompson
The History of The Old-Time Music Hall. With a Sing-a-Long.
Talk & presentation.

Higham and Rushden U3A groups calendar
The calendar below is live and being continuously updated by group leaders.
To look at group activities further in advance, please use the scrollbar to the right of the calendar (if there is one) rather than the scrollbar on the right of the web page. If you are only interested in the activities of one particular group, you can select it from the dropdown list next to the word "Group".
Beacon
Beacon is a dedicated database system developed by the U3A nationally which Higham and Rushden have joined along with 150+ other U3A's.
This allows automation of many aspects of administering our branch including tracking of membership, branch calendar of events, details of our interest groups and financial reporting. Generally speaking members will not need to interact with it, but can log in to Beacon by clicking here to check and change their own personal details and also find telephone numbers for group leaders.
Note that there are no separate login details for you to remember: just your membership number, name, postcode and e-mail address as submitted on your last renewal forms.