Welcome to the home page of our website
Now that the COVID-19 vaccine is being rolled out across the country, criminals are using this to exploit elderly and vulnerable people. The scam consists of:
Text messages and emails asking people to book their vaccine through a link which then asks for personal/financial details.
Phone calls targeting vulnerable and elderly people, playing a recorded message, telling them they've now qualified for the vaccine. Victims are then being asked to press a number to arrange their booking.
In both instances, victims are then asked for personal information, financial details, and payment to receive the vaccine. We would encourage everyone to be wary and to take five minutes to consider if the communication is legitimate if contacted by anyone asking for payment for the vaccine.
The NHS DOES NOT charge for the vaccine and any calls, texts, or emails such as this should be treated as a scam.
SCAM ALERT
Anyone who has received these emails or texts should forward them directly to the NCSC at report@phishing.gov.uk.
Please share with older and vulnerable friends and family, particularly those without internet access.
Coronavirus: January update
Dear Members.
The Committee continue to follow the advice from the government. By now we had hoped that our monthly meetings would have resumed. Unfortunately we anticipate most group gatherings will not resume until Spring at the earliest. This of course is wholly dependant on the progress of the virus.
As you may be aware our area is still in the grip of this virus which may not yet have reached its peak, we must all stay alert.
Should the government advice change we will of course make further announcements on the noticeboard.
=========================================
The Special Events group has done a lot of work planning for 2021 and several visits have been arranged, including to Highclere Castle, possibly best known as the location for filming of the TV series Downton Abbey. Further details can be found here.
=========================================

New Covid-19 cases in this area are on the increase and the pandemic is by no means over, so please obey the rules.
Keep safe, wash your hands and get tested for your own peace of mind.
URGENT ANNOUNCEMENTS
(reserved for committee-approved announcements: routine announcements can be found elsewhere on this page.)
Would Group Leaders please note that there have been recent problems with e-mails from Beacon being delayed by our system. The root cause of the issue seems to be bulk e-mails, particularly those with attachments. Beacon guidance on sending e-mails includes the following:
It is recommended that attached files don't have long names or names that contain special characters such as brackets because these can sometimes cause delivery problems.
There is no practical limit to the number of attachments you can send with Beacon, but many email servers impose limits on the number or size of attachments that recipients can receive. It is wise, therefore, not to send more than a few attachments with any one message and to minimise attachment size. Also, to reduce the likelihood of emails being flagged as spam, it is recommended that attachments are not used when sending to more than a few recipients.
=================
Dear Members.

As you are all aware our AGM is usually held at our monthly meeting in October and I told you that we had to have our AGM. Well not so.
Because of Covid 19 we are unable to meet in the usual way. We are able to conduct our AGM as a virtual meeting which means we would be meeting with you on Zoom to carry out the AGM process as appropriate. However the committee met on the 5th August 2020 and decided overwhelmingly in line with advice from National Office that we could delay the AGM until spring or sooner 2021 in the hope that we can once more meet as normal. Feedback from some members also agreed this delay was acceptable.
We hope you understand why we are taking the decision to delay. One reason is because of the Covid situation but also because apart from one member who has expressed interest in joining as a committee member only, we have not received interest from members wishing to join the committee as officers.
We need to hold on to our existing officers to keep our U3A running. Holding the AGM in October would mean that those having served time would, under the constitution have to vacate their posts. We thank Denise Evans, Jenny Carr and Alan Devenish for their continued service.
They cannot remain in post forever so I ask you again, please help by becoming a member of the committee .
Yours Faithfully.
Angela Mason.
Chairman.
u3a Winter Learning Programme
The Third Age Trust (U3A headquarters) has announced a series of initiatives, many of which are available at: https://www.u3a.org.uk/learning/national-programmes. These are intentionally released gradually to keep people's interest and participation over the winter. Other events which require members to book are at: https://www.u3a.org.uk/events/educational-events. The website will be updated regularly so please keep checking those pages.
Events include:
National poetry competition
Programme of free talks delivered by members (currently being sourced).
Made it! Make it! gets a Christmas update
Poetry reading
Winter Watch
Battle of Britain and the Blitz
Paint or Draw (POD) monthly art challenge
U3A Maths Week ("Don't retire from maths – count yourself in!")
Friday watercolour painters
Programme of 'external' talks.
Christmas Choir
A series of Winter Schools are planned for 11th Jan – end of Feb 2021.
ISOLATIONOTICEBOARD
We post here snippets of interest to members self-isolating during the current pandemic. Please keep an eye on this area as the content changes quite regularly.
====================================
Can't find anything to watch on TV? Sky Arts is now available on Freeview, Channel 11 (although you may need to retune). There you will find a very wide range of arts-related programmes, including many featuring music of almost every genre. Worth a look in our opinion.
Some of you may have downloaded the ZOE Covid-19 symptom app, available at https://covid.joinzoe.com/. Researchers on the project are now reporting that skin rash can in some cases be an extra symptom of the virus. If you are interested it is not too late to join more than 4 million people in Britain using the app to help scientists monitor the spread and effect of the pandemic, and it costs nothing and only takes a minute per day.
====================================

====================================

One of our previous speakers, Tom Way, has produced a short video for groups like ours. He hopes it will provide a small amount of entertainment for those of us in lockdown or self-isolation. The video can be found here:
| | |
| --- | --- |
| Judy Cooper, a member of Wellingborough U3A with experience as a teacher, meditation practitioner, and former holistic therapist would like to offer one of her guided relaxation/visualisation CDs, Island of Peace, as a free download for U3A members in Northamptonshire. Click here to download. | |
Ideas for eating during the present lockdown from Dr Mabel Blades, Registered Dietitian and Nutritionist
I am pleased to write this for the local U3A as I know a lot of the members and have often spoken at U3A groups on food, nutrition and health. I thought it would be helpful to write something about good nutrition as there is a lot of misinformation on the topic circulating.
There is no diet that prevents Coronavirus warns The British Dietetic Association! Covid 19 is the condition caused by the Coronavirus.
A well balanced and nutritious diet is important in this stressful time whether you are working long hours, self-isolating or shielding or just having difficulties with shopping.
So here are a few suggestions;-
Take enough fluid, a minimum of 2 litres per day for most adults (unless you have been told to restrict fluid for a medical reason). Lack of fluid can make you feel irritable and fatigued which is not what you want to feel at present. Water is ideal for hydration but most other beverages also contribute except for strong coffees, and caffeine shots and alcoholic drinks.
Eat regular meals – so a breakfast, lunch and evening meal. Try to have some protein at each meal. Protein foods are meat, fish, eggs cheese, milk and pulses like peas beans and lentils. If you think you are not managing to take enough you can boost intake by adding dried milk powder to porridge, soups, puddings and drinks.
Include 5 portions of vegetables and fruit each day.( A portion is 80g or approximately a handful). If you find it difficult to obtain fresh items then try frozen, canned or dried vegetables. These can be useful in soups and casseroles as well as stir fries, curries and chillies to mention but a few dishes. Dried, canned or frozen fruits can be a basis of many desserts.
Try to eat enough fibre by using wholegrain cereals, wholemeal bread and fruit and vegetables plus nuts and seeds.
Now is a good time to try different recipes and to experiment with cooking items in different ways. Get out the tins or packets from the back of the cupboard or bottom of the freezer and try to use these up instead of leaving them there. Then replace them with new items for variety.
It is also a time to have some sort of treat like chocolate, a glass of wine or cake but do try to not devour the whole cake or bottle of wine!
If you are not going out into the sunshine it is worth looking at taking a vitamin D supplement. It is also worth considering a multivitamin and mineral preparation.
If you are following a special diet do contact your dietitian or health professional if you have any queries.
Higham & Rushden U3A treats your rights seriously. Our Privacy Policy and Data Protection Policy set out how we deal with your personal information: click on the links to see the documents, which will open in a new tab.

What is the U3A?
Previously known as the University of the Third Age, the U3A movement is a unique and exciting organisation which provides, through its U3As, life-enhancing and life-changing opportunities. Retired and semi-retired people come together and learn together, not for qualifications but for its own reward: the sheer joy of discovery! Members share their skills and life experiences: the learners teach and the teachers learn, and there is no distinction between them.
Further brief details about the movement can be found here, or for the full story of the U3A movement's national organisation, the Third Age Trust, click here to open the national U3A homepage in another tab. For further details of the Higham and Rushden U3A, please carry on browsing this website.
If you would like to join us you can find a membership application form here or among the many documents available on the Administration page (although you will need to scroll down the page).
The slideshow below is of local images. Use the arrows below the pictures to move backwards and forwards between pictures.
Many of these pictures were taken from the internet, so we need input from members! Please send us your local pictures.
There is a new page on our website entitled Wellbeing. If you know of any useful resources regarding health and wellbeing matters which we can share with other members, please let the webmaster know.
= = = = = = = = = = = = = =

The Special Events Group has developed an interesting programme of events for 2021, including Highclere Castle, the National Stud and the Royal Courts of Justice. You can find out more here.
===========================================

Message from Linda Walker about her groups.
Thank you for all the best wishes messages and inquiries about Covid-19. From the news recently, a vaccine may be coming soon. Then we will all get a great Christmas present? We are pretty much back to normal, whatever that is now.
Non Fiction H&R U3A Book group.
Sad to say we had to cancel our last meeting as the leaders went down with Covid-19. We are keeping going "on a low light" as my Mum used to say by email.
Days out car share group.
We have heard from some of you, and are not surprised you are reluctant to car share even if it were possible. Hopefully 2021 will bring good news, then we can all meet up again.
A Little Aloud Group
Had been meeting at the Needle and Awl, a great place to meet. They are closed at present. Once they are open again we will resume with 6 members per meeting
Sunday lunch Group.
Has been on hold since March. Our favourite venue Rushden Bowls club Northampton Rd is not reopening until late 2021. We will be looking for a new venue once Covid-19 are restrictions are lifted.
Popular Music Appreciation group.
Is on hold at present. I did contact several contacts at the Shed near Rushden Station. I am still waiting for a reply. As with other groups we will be restarting ASAP. Our one problem is our sitting room, the regular venue, is too small to socially distance 6.
===========================================

The financial year of our U3A runs from September to August. Our treasurer Mike Wood has produced the accounts for the 2019-20 year and these can now be found on the Administration page.
===========================================

At least 2 members collect used postage stamps for charity, so from now on there will be a box at each monthly meeting into which members can deposit their stamps, secure in the knowledge that they will go to a good cause.
December message from the chair
Dear Members,
I want to wish you a very merry Christmas and a much happier new year 🎄 🎄 🎄 .
I am writing this on a day when the Covid vaccine start date has been announced which heralds good news for our U3A being able to rise Phoenix-like from the ashes sometime early in 2021. I understand that this vaccine will not stop you getting Coronavirus but does lessen the severity. You will need two vaccines one a few weeks after the other. I am hopeful that I will be able to announce the commencement of our monthly U3A meetings probably after March 2021. As soon as the government give the go-ahead I will be in touch and be assured there will be much rejoicing.
My husband and I have managed, like so many, to get through lockdown during the summer months occupied by supporting our daughter and granddaughters and doing much-needed gardening. We managed to get away in our caravan a few times. I did wonder at the time if people would tolerate queuing in the cold weather. Well, it would seem we can tolerate queuing in cold weather as I witnessed today a mighty queue outside the shops at Rushden Lakes.
We had hoped to get away last month for one last trip in the caravan before Christmas. Two things have prevented that happening. One was lockdown, the other was our caravan being stolen during the night from our drive 4 weeks ago.😓
To all of you: have a very merry Christmas and happy New Year.
Best wishes.
Angela.
NB The Newsletter is available online from the Sunday before each monthly Meeting.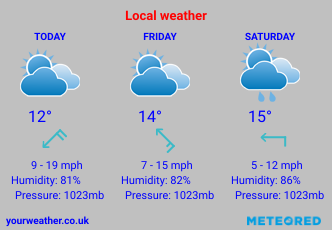 National U3A news
Third Age Trust AGM 2020

It was decided that the capitation fee which each U3A has to pay the Third Age Trust anually should increase to £4.00 per member
In case you missed it, there is a notice on our noticeboard about the national U3A newsletter available from https://u3a.org.uk/newsletter (opens in a new tab).
Higham and Rushden U3A monthly meetings: currently suspended because of the Covid-19 pandemic
Make sure you don't miss our interesting talks on the third Thursday of the month once we are able to resume normal activity.
Meetings start at 1:30 so that the talk can begin at 1.45 pm prompt at the Wesleyan Church ("The Church in the High Street"), accessed from Queen Street in Rushden town centre. Visitors are welcome at £3 per meeting for a maximum of 2 meetings.
Higham and Rushden U3A groups calendar
Some changes have been made to Beacon which have impacted how the groups calendar can be displayed. At present it is unfortunately not possible to show them within this page, as we did before.
It is still possible to see the calendar without having to log into Beacon, simply by clicking on the large button below. The calendar page will open in a new tab (which may not be obvious if you are viewing this on a phone or small tablet) and you can return to this page by closing the other tab.
Beacon
Beacon is a dedicated database system developed by the U3A nationally which Higham and Rushden have joined along with 150+ other U3A's.
This allows automation of many aspects of administering our branch including tracking of membership, branch calendar of events, details of our interest groups and financial reporting. Generally speaking members will not need to interact with it, but can log in to Beacon by clicking here to check and change their own personal details and also find telephone numbers for group leaders.
Note that there are no separate login details for you to remember: just your membership number, name, postcode and e-mail address as submitted on your last renewal forms.
Please remember that this website is run by our members for our members.
Please submit anything you would like to see on the site (pictures, videos, items of general interest, breaking news, useful links to other websites etc). Email the Webmaster or the appropriate group leader via the contact page and keep our website interesting: any pictures of U3A activities would be much appreciated.
If you find any links which don't work or any spelling mistakes PLEASE also let the Webmaster know via the contact page.