If your browser warns you that this website is not secure and you are worried about this, then please click into the address bar at the top of the page and change "http://" to "https://", leaving the rest of the text unchanged. This will take you to a secure version of the site.
Please note, however, that merely looking at the pages on this site will not make you in any way vulnerable if you do not do this.
==================
Higham & Rushden U3A treats your privacy rights seriously. Our Privacy Policy sets out how we will deal with your personal information, which could recognise or is related to, the identity of an individual. Please click HERE to view.

URGENT ANNOUNCEMENTS
(reserved for committee-approved announcements: routine announcements can be found further down the page.)
MAJOR CHANGES HAVE TAKEN PLACE
From now on the monthly meetings will be held in the Wesleyan Church ("The Church In The High Street") accessed from Queen Street in Rushden town centre. Monthly meetings are also a day later, changing from the third Wednesday each month (except in December) to the third Thursday of the month except in December.
There is a note here from Angela Mason explaining the reasoning behind the move, and details of the venue can be found here.
What is the University of the Third Age, or U3A as it is often known?

The University of the Third Age (U3A) movement is a unique and exciting organisation which provides, through its U3As, life-enhancing and life-changing opportunities. Retired and semi-retired people come together and learn together, not for qualifications but for its own reward: the sheer joy of discovery! Members share their skills and life experiences: the learners teach and the teachers learn, and there is no distinction between them.
Further brief details about the movement can be found here, or for the full story of the U3A movement's national organisation, the Third Age Trust, click here to open the national U3A homepage in another tab. For further details of the Higham and Rushden U3A, please carry on browsing this website.
If you would like to join us you can find a membership application form here or among the many documents available on the Administration page (although you will need to scroll down the page).
The slideshow below, which you can pause by holding your cursor over one of the dots in the progress bar below it, is of local images.
Many of these pictures were taken from the internet, so we need input from members! Please send your local pictures to us via the blog page.
Higham and Rushden U3A news:
The U3A Northamptonshire Network has arranged a talk by author Gervaise Phinn in Wellingborough on the afternoon of 23rd April.
The event costs £5 per person including refreshments after the talk. The booking form with full details can be found here (and will open in a new tab).
= = = = = = = = = = = = = =

There is a new page on our website entitled Wellbeing. If you know of any useful resources regarding health and wellbeing matters which we can share with other members, please let the webmaster know.
= = = = = = = = = = = = = =

The University of Leicester has invited U3A members to a free evening of neuroscience talks and demonstrations in Leicester on Wednesday, 18th March 2020. Full details are on the Wellbeing page.
= = = = = = = = = = = = = =

CHAIR AEROBICS is now PILATES EXERCISES FOR SENIORS
Our Chair aerobic teacher is moving out of the area, but the two classes will continue just the same as we have a new teacher starting on the 13 December, but the change will be from chair aerobics to PILATES EXERCISES for SENIORS.

There are currently vacancies in both sessions (at 2 and 3 o'clock), so if you are interested, please get in touch with Sylvia via the Contact page.

= = = = = = = = = = = = = =

Please note that there has been a change to the location of February's Country Park Walk. This will now be at Stanwick Lakes rather than Irchester Country Park.
The walk will still be on Sunday 9th February.
= = = = = = = = = = = = = =

Days Out and Car Share:

Car share trip on Monday July 6th. Courteenhall House Northampton NN7 2QG £18 tour, payment by February 14th.
Courteenhall House, built in 1792, is a stunning example of classic Georgian architecture, built by Samuel Saxon. The property is only open for private tour visits and is only 30minutes from Rushden. The grounds were designed by Humphrey Repton and the arboretum is internationally recognised for its collection of rare and beautiful trees and shrubs.
Courteenhall House was commissioned by Sir William Wake (10th baronet), and retains almost all of its original features. It remains the home of the Wake family to this day and is a treasure trove of family and national history. The house is very rarely opened to the public. The grounds were designed by the legendary Humphrey Repton and can be viewed in detail. The arboretum, planted by Sir Hereward Wake (14th baronet), is visited by the International Dendrology Society and the Royal Forestry Society, amongst others, for its stunning and rare specimens.
We will be at the January meeting to take payment. I need 28 for the trip to be viable. Contact leaders to offer transport or if you require it. Linda 01933 387892 or email spidar.girl(at)btinternet.com

Sunday Lunch Group:
Next lunch at the Rushden Bowls Club 26/1/20. We welcome singles and new-to-U3A members. Booking essential - contact Linda on 01933 387892.
Non-Fiction Book Group:
Our January book is:
Romantic Outlaws: The Extraordinary Lives of Mary Wollstonecraft & Mary Shelley by Charlotte Gordon. The book has 673 pages, has been read on Radio 4 and was a National Book Critics Circle Award Winner. It is an easy fast-paced read.
New members welcome. Contact Linda 01933 387892.

Are you a non-Fiction reader? Interested in Travel, History, Biographies etc. The group meets on the 3rd Monday of each month at the Group Leader's home. Members need to commit to buying the books we will be reading on Kindle or online. Our next meeting is a planning meeting, and book recommendations are welcome.
As we are members of Thrapston and Wellingborough U3A's we welcome their members.
===========================================

At least 2 members collect used postage stamps for charity, so from now on there will be a box at each monthly meeting into which members can deposit their stamps, secure in the knowledge that they will go to a good cause. Initially (if not permanently) the box will be on the membership desk near the entrance.

===========================================

Riviera Travel will give 10% off the price of booking a cruise to our U3A when a member books and mentions Higham and Rushden U3A .
January message from the chair
Happy New Year Members.
May this be a change of fortune for us and hope we can at last get to grips with our new venue. We have had a bumpy ride with the December meeting preventing use of the full church hall due to the general election: it was noticed that a few members left after the choir and didn't stay for tea. The conditions were not ideal!
Anyway onwards and upwards we will have a better meeting this coming week.
I hope you all had a joyous Christmas shared with family.
My husband, being a huge brass band fan, wanted to visit the Salvation Army Kettering at their carol service. It was so lovely. Whilst there we learnt about the homeless and lonely that they care for, up some 33% on last year. They need socks! Please bring any socks to me you may have so that I can pass them on, they do not need to be new.
We are still trying to raise awareness of U3A in the community and have, I think, decided to participate in the the annual U3A day on June 3rd. We are unsure what form this will take but it is desired that in some way we raise our profile on this day.Please keep this date free. Anyone with ideas on what to do we will gladly listen to.
I hope to see as many of you as possible this coming Thursday.
Angela.
Chairman
NB The Newsletter is available online from the Sunday before each monthly Meeting.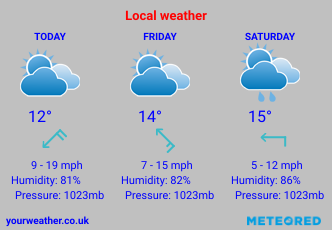 National U3A news
Third Age Trust AGM 2020
This will be held at The East Midlands Conference Centre, Nottingham on Thursday 27th August 2020, commencing at 11:15. Further details will be available nearer the time.
===========
Interested in a regional U3A Email newsletter as well as our own local one?

Visit u3a.org.uk/email and fill out your details for news, events and regional updates direct to your inbox: you will need to decide whether East Midlands or East of England is more appropriate.
Higham and Rushden U3A monthly meetings
Make sure you don't miss our interesting talks on the third Thursday of the month by making a note in your diary.
Meetings start at 1:30 so that the talk can begin at 1.45 pm prompt at the Wesleyan Church ("The Church in the High Street"), accessed from Queen Street in Rushden town centre. Visitors are welcome at £3 per meeting for a maximum of 2 meetings.


Date

Venue

Topic

Speaker

__________________
_________________
__________________________________________________________
_____________________
February 20th
Wesleyan Church
The Forgotten Art of The Picture Postcard
Dr James Taylor
Brilliant British Humour
March 19th
Wesleyan Church

Don't Dilly Dally
Tricia Thompson
The History of The Old-Time Music Hall. With a Sing-a-Long.
Talk & presentation.

April 16th
Wesleyan Church
Mullucks and Memories
Tom Partridge-Underwood
An amusing walk down Memory Lane, Discovering the 'memories'
behind the 'mullucks' that the speaker possesses.
May 21st
Wesleyan Church
My Farcical Career as Liaison on a Cruise Ship
Colin Bowyer
The speaker is a retired actor who will have you in stitches with his
very dry delivery coupled with an amazing sense of timing.
June 18th
Wesleyan Church
The Truth behind Les Misérables
David Price
The phenomenally successful musical based on a novel by French
author Victor Hugo who was actually living in exile in Guernsey while
writing it.
But why did people rebel and what were they fighting for? And are the
main characters Jean Valjean, Fantine, Colette, Javert, Eponine and
Marius actual reflections of real-life people?
With slides and musical extracts.
July 16th
Wesleyan Church
Magic as depicted in art through the centuries
Ian Keebler
Early Magicians symbolised the mysteries and the unknown. Later,
cartoonists and satirists associated magicians with political skulduggery.
Magicians themselves used the skills of the lithographer and engraver
to promote their own shows: the resulting posters are highly collectable
in their own right. There is also another more secretive way that art is
used in magic: to help the aspiring magician learn the tricks. As Ian
shows, this is one of the few arts that can be illustrated both on screen
and in performance. Talk with magic tricks included
Higham and Rushden U3A groups calendar
Some changes have been made to Beacon which have impacted how the groups calendar can be displayed. At present it is unfortunately not possible to show them within this page, as we did before.
It is still possible to see the calendar without having to log into Beacon, simply by clicking on the link below. The calendar page will open in a new tab (which may not be obvious if you are viewing this on a phone or small tablet) and you can return to this page by closing the other tab.
Beacon
Beacon is a dedicated database system developed by the U3A nationally which Higham and Rushden have joined along with 150+ other U3A's.
This allows automation of many aspects of administering our branch including tracking of membership, branch calendar of events, details of our interest groups and financial reporting. Generally speaking members will not need to interact with it, but can log in to Beacon by clicking here to check and change their own personal details and also find telephone numbers for group leaders.
Note that there are no separate login details for you to remember: just your membership number, name, postcode and e-mail address as submitted on your last renewal forms.